by Mike Knaak
editor@thenewsleaders.com
It's time to start gathering your unused, unwanted or broken items for recycling.
The Sartell Lions Annual Spring Cleanup will take place from 8 a.m.-noon Saturday, April 27 at the Sartell Middle School parking lot.
The Lions will accept just about anything for recycling except hazardous waste or prescription drugs.
Fees are charged to recycle items. For example, the fee for electronics is 70 cents per pound, tires are $10 each and couches or stuffed chairs are $30 each.
A complete fee list is available on the Lions website at www.e-clubhouse.org/sites/sartell.
This Lions annual event falls in the same week as Earth Day, April 22. Bringing items to the cleanup for recycling instead of sending them to a landfill conserves natural resources, prevents pollution and supports American manufacturing.
The Lions use their profit from the cleanup to support community projects such as Lions Park and school scholarships. Lions are best known for the efforts to end preventable blindness. Lions Park at Pinecone Road and First Street N is the only local park for the handicapped with paved walkways and a continuous handrail.
Fees the past few years have been between $7,000-$8,000 and the profits have been $3,000-$4,000.
When the event opens, cars are lined up around the corner, said Mike DeLuca, Lions secretary. Usually, as many as 125 cars arrive with items in addition to trailers with larger items such as couches and mattresses. Lions are assisted by Boy Scouts.
If you can't make it to the recycling site on April 27, the Lions will pick up your items at your home. Call Jack at 320-250-6697 or Cody at 320-828-6620 to arrange a pickup.
The Lions have conducted the annual event for more than 20 years and the club is always looking for new members to pitch in. Lions meet monthly for about 90 minutes and schedule activities throughout the year. To join, email SartellLions@gmail.com.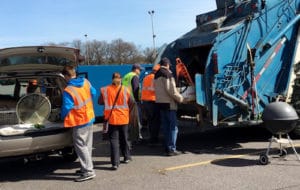 contributed photo
Items arrived by the carload at the 2017 Sartell Lions Spring Cleanup.