by Dennis Dalman
news@thenewsleaders.com
Forget the champagne and the celebratory hoopla. After Judy Januschka Murray of Sartell finished the Ironman triathlon at Cambridge, Maryland, she was too tired to celebrate.
Exhausted but happy, she walked across the red carpet at the finish line.
"I was smiling," she said. "Hugely."
And Murray, 60, had good reason to smile. She had finished first among 19 other competitors in her age category – 60 to 64. That age-group win qualified her to compete in the prestigious Ironman Kona World Championship race next year in Kailua-Kona, Hawaii.
Earlier this year, Murray placed first in her age group at a Chisago race, and she won her division in past years in the Maple Grove Olympic, the Green Lake Olympic, the Buffalo Olympic and in Graniteman races.
The Ironman Maryland triathlon was a grueling race that took place on a hot and very humid day, Sept. 28. It took Murray 12 hours, 25 minutes and 54 seconds to finish the three events. She swam 2.4 miles in Choptank River where lots of jellyfish stung her and the other competitors; she biked 112 miles; and she ran 26.2 miles.
The jellyfish stings hurt, but Murray took them in stride.
"You do what you have to do," she said.
Her husband, Michael Murray, also finished the triathlon.
Throughout the years, both had competed in the Sartell Duathlon and finished many times first in their age groups.
Judy also competed in the Ironman Florida (Panama City) triathlon in 2016. Michael is working on his Legacy Program honor by completing 12 Ironman events, the latest in Cozumel, Mexico, this November. Judy, who described herself as "kind of retired," last worked in the pre-school program at St. Francis Xavier Elementary School in Sartell. Michael is vice president of the Blue Stem Co. headquarters in Minneapolis. Blue Stem, which has a facility in St. Cloud, was formerly Fingerhut.
Michael Murray started competing in duathlons and triathlons years ago.
"Then I decided to show him I could do it too," Judy said. "It takes a lot of training, but anybody can do it. It's a way for me of staying healthy and doing something for myself. The people who compete are such good people – good friends."
Ironman triathlons attract both professionals and hobby tri-athletes.
"I'm not a pro," Judy said. "Mike (husband) is quite the Ironman. He is so supportive – wonderful and encouraging."
The Murrays have three children: Alexandra Bender of Rochester, New York; and Nick and Christian, who live in northern California, where they both enjoy biking and running. Son-in-law Matt Bender is a topnotch Ironman competitor who has finished the Ironman Kona race multiple times.
Now, Judy has her sights set on that race in Hawaii, which will be her first try at the Kona triathlon.
"It's a brutal race," she said. "The run goes across lava fields. It's a real beast. My goal is just to finish the race."
In the meantime, until the Ironman Kona takes place in October 2020, Judy will be doing many practice runs, mostly in and around Sartell.
Ironman Background
Sponsored by the World Triathlon Corp, the Ironman races are widely considered to be some of the most difficult and challenging races in the world.
The first Ironman triathlon took place in Waikiki, Hawaii, in 1978. Now, there are more than three dozen Ironman races throughout the world, and all are qualifiers for the world championship Kona in Hawaii.
Patrick Lange of Germany holds the Ironman Kona record for his win in the 2018 race with a time of 7 hours, 52 minutes, 39 seconds. Daniela Ryf of Switzerland set the women's record in that same year with her winning time of 8 hours, 26 minutes, 18 seconds.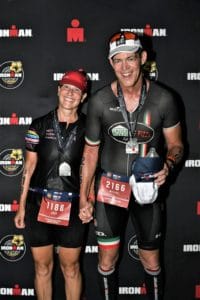 contributed photo
Judy Januschka Murray and her husband, Michael Murray, both completed the grueling Ironman Maryland triathlon Sept. 28 in Cambridge, Maryland. Judy finished first in her age group, thus qualifying her for the World Championship Ironman Kona triathlon in 2020 in Hawaii.
Author:
Dennis Dalman
Dalman was born and raised in South St. Cloud, graduated from St. Cloud Tech High School, then graduated from St. Cloud State University with a degree in English (emphasis on American and British literature) and mass communications (emphasis on print journalism). He studied in London, England for a year (1980-81) where he concentrated on British literature, political science, the history of Great Britain and wrote a book-length study of the British writer V.S. Naipaul. Dalman has been a reporter and weekly columnist for more than 30 years and worked for 16 of those years for the Alexandria Echo Press.