by Mike Knaak
editor@thenewsleaders.com
St. Joseph residents should sleep well tonight. The city has been ranked as one of Minnesota's safest places to live.
Behind No. 1 safe city Big Lake, St. Joseph ranked eighth, according to a study conducted by Security Baron, a company that specializes in home and cybersecurity issues.
The rankings are based on FBI data for serious crimes including murder, rape, robbery, burglary and thefts. The study also considered police officers per 1,000 people and median income.
"I'm very happy," said St. Joseph Police Chief Dwight Pfannenstein. "I'll take that result any day, as long as we're in the Top 10. We're very happy with that."
St. Joseph's data revealed 0.74 violent crimes per 1,000 residents and 8.71 property crimes per 1,00 residents. In comparison, top-ranked Big Lake, in Sherburne County, had more violent crimes – 0.09 per 1,000 residents, but fewer property crimes, 5.5 per 1,000 residents.
Compared with its neighbors, St. Joseph fared pretty well. Sartell ranked 44, Sauk Rapids 60, St. Cloud 115 and Waite Park 123.
St. Joseph's neighbor to the southwest, Cold Spring/Richmond, ranked fourth.
"Other than Cold Spring, we're the safest city in the area," Pfannenstein said.
The chief said the department's biggest challenge continues to be preventing thefts and other property crimes.
He said when the department's nine officers are on the street in marked patrol vehicles, they may deter criminals. He points out officers can't be everywhere at once. But when officers are in unmarked vehicles, it's easier to observe criminal behavior.
"They can't be everywhere at once," the chief said.
He encouraged citizens to be observant and report.
"If you see something, say something," Pfannenstein said. "The citizens are the real heroes" in keeping the city safe, the chief said.
A closer look at the data shows St. Joseph's violent crimes trending downward while property crimes are trending upward slightly.
Compared with 1.12 officers per 1,000 residents in Big Lake, St. Joseph has 1.33. Among its closest neighbors, Sartell has 1.09 officers per 1,000 residents, St. Cloud has 1.58 officers, Cold Spring/Richmond's department has 1.62 officers and Waite Park has 2.15 officers per 1,000 residents, according to the FBI-based data.
To see the complete report, go to https://securitybaron.com/safe-cities/minnesota.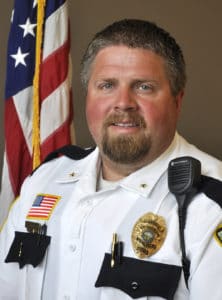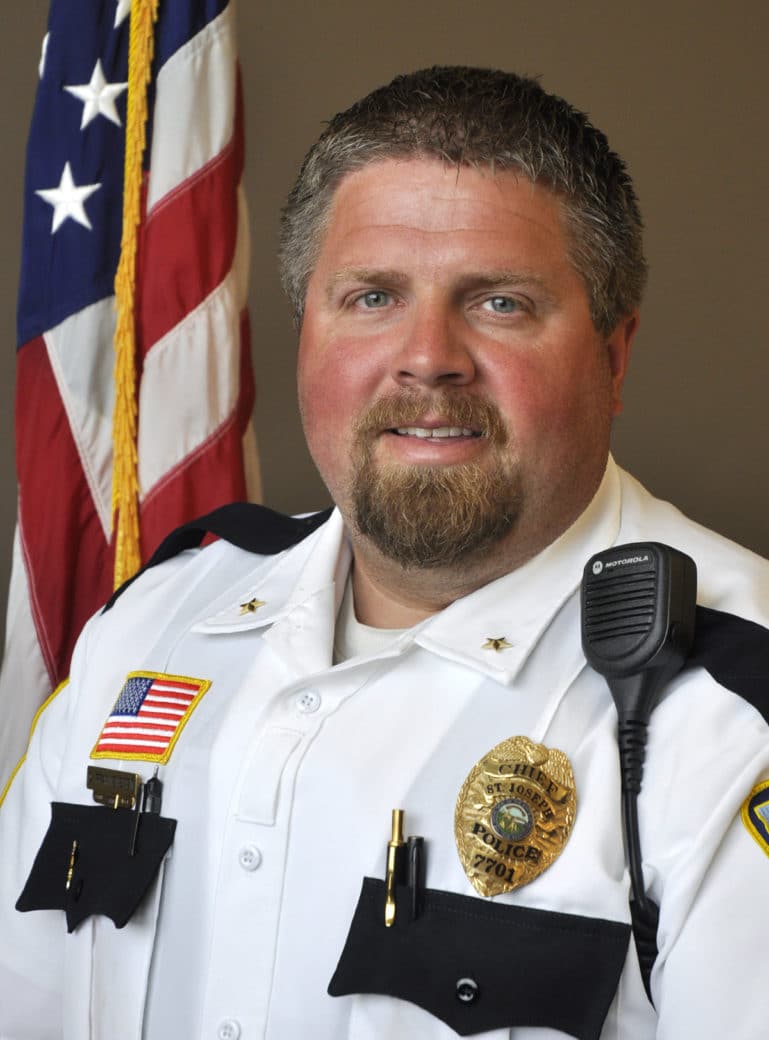 photo by Mike Knaak
St. Joseph Police Chief Dwight Pfannenstein