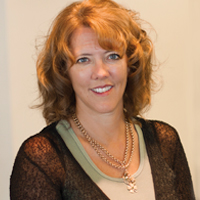 Pam Raden
Age: 48
Family: Married to Scott. Children Tianna, 15; and T.J., 12
Employment: The Johnson Group Marketing, Inc.
1. Please share relevant background and experiences.
I have owned a small business, the Johnson Group Marketing Inc., a full-service advertising agency, employing between 10 and 15 people for almost 20 years with my husband, Scott. My professional expertise is in marketing, account relations and public relations. I have many years of leadership experience through my business and volunteering on boards of directors, committees and elementary and junior high coaching.
Community Leadership Experience:
Sartell/St. Stephen Education Foundation Board member/Executive Committee – present
St. Cloud Area Chamber Chair of the Board 2008, Board of Directors 2002 – 2009
Sartell Junior Olympic Volleyball Board member – present
Children's Day Montessori School Chair of Board 2006/Board of Directors 2002-2007
District 748 Levy committee leader – 2010
Forum of Executive Women Board of Directors 2003-2005
St. Francis Xavier Elementary School – Marketing Committee 2003-2008/2010
Volleyball coach for girls grades fourth through eighth grade over the past 15 years
Wheels, Wings and Water Festival Board Member/ Marketing Director 1990-2000
St. Cloud Business School instructor, sales and marketing 1990-1994
Junior Achievement Instructor for six years 2005-2011
Volunteer at School – field trips and home-room parent
2. What, in your opinion, is the major issue facing the school district?
1. The landscape of learning is always changing. We need to constantly be pursuing leading-edge ideas to help our students become leaders of tomorrow.
2. We need to restore the confidence in leadership and have a renewed understanding of the board's role within the district.
3. We need to deliver increased and clear communications, especially in regard to high-impact district decisions.
4. We need to review and simplify some of the policies and goals recently set in place by the board for our district.
3. How would you address that issue, if elected?
1. To stay on the cutting edge of learning, I would create a board environment that welcomes staff to bring their ideas forward. They are the experts. I want to encourage new methods that really push our students to do more creative thinking.
2. I would help bring the focus of the board back to "big picture" management and a policy-making body it is intended to be.
3. Having watched many school board meetings in the last year, I would be much more inviting, approachable and openly communicate decisions. I want to involve the students at the board level when appropriate and respect the thoughts and ideas the citizens of our district bring forward.
4. Streamline some of the policies and district goals recently implemented. We have experienced, smart people managing our buildings and staff. Trust them to do the job they were hired to do.
4. If the school district is forced to make cuts, in which areas would you make the cuts?
We are so fortunate the citizens of our district supported the levy, so cuts will not be the main topic of conversation, but effectively and efficiently directing the dollars we were trusted with will always be at the center of my decisions.
5. What are the top strengths and the most serious weaknesses in the district?
Strengths: The teachers, principals and district support staff. We have amazing people delivering a wonderful learning experience to our children every day. The strength of our district is proven in the incredible results they deliver. I was given a wonderful opportunity to see the creative ideas and devotion our teachers have to the learning experience of our children when I interviewed them as part of the Sartell-St. Stephen Education Foundation grant committee.
Weakness: Focus, communication and leadership of our school board. When leadership is not trusted, it is felt throughout the entire staff and can have adverse effects on those working hard to deliver the expected results.
6. How do you feel about the introduction of advertising in school buildings by companies that give "perks" in exchange for those advertisements?
Not sure what "perks" are being discussed. I would need much more information and then review on a case-by-case basis. I would do some homework and see if other districts had positive results with advertising. I do feel it is always important to review public/private partnership opportunities. There are many areas where our district can save money or tap into local expertise when private and public entities come together.