by Dennis Dalman
editor@thenewsleaders.com
What kind of murder and mayhem has brought plaid-clad detective Sherlock Holmes to Minnesota, and why is he coming to Sartell?
Holmes and his sidekick, Dr. Watson, will be guests of honor when Country Manor in Sartell celebrates the opening of Drakes Fine Food and Spirits during the week of Sept. 7-13. The public is invited to come to the bar-restaurant on those days and thereafter because Drakes will be open to the public, as well as to residents of Country Manor.
Drakes is located in Country Manor's Waterford building at 520 1st St. NE.
Sherlock Holmes and Dr. Watson (alias Jeff Falkingham) will give two informative, entertaining presentations Tuesday, Sept. 9. A 30-minute program will start at 4 p.m. From 4:30-5 p.m., guests will have a chance to ask questions and get books signed by Falkingham, who is an author. The public is invited to attend either or both sessions, free of charge, as are Country Manor residents, their families and guests.
The first presentation by "Holmes" and "Watson" will give an overview of the Sherlock Holmes stories, penned many decades ago by British author Sir Arthur Conan Doyle. The second presentation will give a detailed introduction to the science of criminal investigation as practiced by Holmes, the world's most famous fictional detective. Falkingham, who will perform as "Watson," will also share with the audience how he writes his crime books. Holmes will be played by "a mystery guest," gussied up with Holmes' famous deer-stalking hat, his plaid Scottish cape, his magnifying glass and his ever-present tobacco pipe.
Falkingham is the author of Minnesota-based novels in which Sherlock Holmes is the main character. Set in the late 1800s, the books are Sherlock Holmes and the County Courthouse Capers, which takes place in Brown's Valley, Falkingham's hometown. That book's sequel is Sherlock Holmes: In Search of the Source, which is set in St. Paul in 1896. Both books abound in deceit, betrayal, vengeance, and as befits any Holmes' tale – murder.
A 1978 St. Cloud State University graduate, Falkingham is a longtime history buff and mystery lover. He also enjoys sharing those passions with others.
Besides his bachelor's degree from SCSU, he also earned a master's degree in community and organizational leadership from Augsburg College, Minneapolis.
He began his career as a sportswriter, then for 30 years he worked in marketing communications and advertising with family-owned, Minnesota-based companies. He and his wife, Bonita, have lived for years in Eden Prairie, where they raised two children and a series of golden retrievers.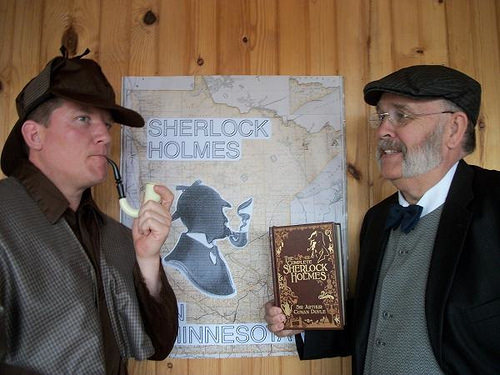 contributed photo
Sherlock Holmes (left), played by a "mystery guest", and his assistant Dr. Jim Watson (right), aka Jeff Falkingham, will be guests of honor when Country Manor hosts a public grand opening for its new Drakes Restaurant and Fine Spirits Tuesday Sept. 9. Falkingham is a Minnesota author who has penned novels about Sherlock Holmes in Minnesota.