by Cori Hilsgen
news@thenewsleaders.com
Pastor Jerome Tupa of the Church of St. Joseph recently celebrated his 50th anniversary as a priest. He has been pastor in St. Joseph for two years.
"I certainly enjoy being here in St. Joseph," Tupa said. "It's a very, very fun community. Seeing the changes and seeing the many things people do for this community is really gratifying. I have excellent help. The staff here is just really good."
Tupa was born in Rolette, N.D. and was given the birth name Timothy.
"My father worked for the railroad, so we moved quite a bit in those early years of the war," Tupa said. "My mother was a school teacher."
His mother and her family were pioneers of the north central part of North Dakota. Her parents arrived when it was still Indian territory and were some of the first residents to arrive in that area.
Tupa's father died of a heart attack when Timothy was 10 years old, and his mother went to Cavalier, N.D. to teach. His older brother, Paul, was three years older and was in high school at the time.
He said it was hard on his mother who had to find another house to live in and to find other employment. The family had been living in a house owned by the railroad at the time of his father's death.
"For her it was really a difficult transition," Tupa said.
Tupa graduated from high school and attended college in North Dakota. He attended public schools as a child and had no relatives who entered religious orders.
"When I was in high school, for some reason, I had this idea I would like to try being a priest," Tupa said. "That was put on a shelf, of course, when there are so many other things going on and going to school, going away to college and I didn't think about it again until I was probably a junior in college. I had no idea what I wanted to do with a degree. I was probably going to be a teacher, but I had no idea what I wanted to do outside of that. I heard about St. John's and thought that would be a good vocation, wouldn't it? I came to St. John's and interviewed, met the community and found so much life and it was such a life-giving experience. I was very energized by that."
He finished his college degree at St. John's University and entered the monastery in the fall of 1962.
"It was a good fit," Tupa said. "I thrived. The monastery was just huge. We had 360 monks living in the abbey and it was quite the height of learning and of activity. The monks pretty much were the whole faculty of St. John's. I think there was only one woman employed at the time and she was the abbot's secretary. Now it's almost the opposite at the University where there are so many lay teachers and other workers there."
Tupa appreciates the discipline he learned at the monastery.
"One thing I learned was discipline," he said. "It was something I probably didn't know existed as I was trying to figure out my life and all those things. That discipline really helped organize my days and allowed me to do so many other things."
Everything he did for many years centered around SJU until he went to Paris.
"I was interested in languages and fascinated by French," Tupa said. "Since I seemed to have a knack for it, the department recommended to the abbot I go away to school and study it for the future to have a job there. Which I did."
He earned his master's and doctorate degrees in French literature in Paris. He returned to SJU and taught French there for more than 30 years, retiring seven years ago.
Tupa also speaks a little bit of Italian, but said he isn't as fluent as he used to be.
"When you don't use these languages, it kind of goes," Tupa said.
In the 1970s, he began working on and directing study-abroad programs in France and other areas. This program has now evolved into a yearly program.
"One of the frustrations of teaching was at some point I became aware I was picking up some of the bad grammar of the students," Tupa said. "I would get to thinking are they right or am I right? That was the time to quit."
Tupa served as pastor at St. John the Baptist Church in Collegeville for two years before coming to St. Joseph.
He is also a gifted artist, having learned to paint mostly in Paris. Tupa is somewhat self-taught but also studied at SJU with Bela Petheo, who is well known in the area for his landscapes.
He has done exhibits around the United States and in Europe. Those exhibits were often related to pilgrimages and shrines – the idea of a holy place to go to.
"One of the actual pilgrimages I did was in Italy where I did drawings in watercolors and came back and did a whole series of oil paintings to illustrate the Road to Rome, a Modern Pilgrimage," Tupa said. "Before that there was the California missions, from San Diego up to Sonoma – the 21 California missions – and I did a book, An Uncommon Mission. That was shown in four different museums around California."
The California missions was sponsored by Mervyn's of California, which at the time was a subsidiary of Target, but no longer exists. Second-grade students study the missions as part of the history of California. Mervyn's had an exhibit bus that displayed pieces that illustrated the missions and traveled to the schools to help teach the students. Several of Tupa's paintings were in the bus.
His Rome exhibit was shown in Washington, Illinois and New York. Another book, Painting the Pilgrimage: From Paris to Compostela, is a huge collection of Tupa's work that was shown at the Naples Museum of Art in Florida. He traveled the road to Compostela, which is a pilgrimage route that thousands of people walk.
"This was really a beautiful series of work and I was quite proud of that and of the exhibit they had at the museum," Tupa said.
His most recent work, which he is still working on, is a series of the Middle East. This large collection of oils series begins in Venice, then goes to Istanbul, Turkey, down into Aleppo and Damascus in Syria, through Lebanon, Israel into the Siani Desert and then to Egypt.
"Some of the works are in places that no longer exist because of the war that has been raging in Syria," Tupa said.
Tupa has a dog, Buster, who is 6 years old. He found Buster, who is part chow chow and golden retriever, at the Tri-County Humane Society. Tupa said Buster was sitting there waiting for him.
"When I realized I was coming here, I felt it would be nice to have a companion," Tupa said. "He is a wonderful dog."
Some of Tupa's hobbies include walking Buster, sketching and painting, reading historical novels and cooking "anything good."
"I love pastas, unfortunately not the best thing for me, but pasta sauces are wonderful," Tupa said.
His brother, who made a career with the U.S. Navy, died four years ago. Tupa's mother lived to be 102. When she was in her 90s she came to live near him at Mother of Mercy in Albany.
"Great care – what a marvelous place," Tupa said. "With hospice – those people were just fabulous. I have the highest respect for all of them."
He said his mother, who was very intelligent, was the last of all of her nine siblings to die.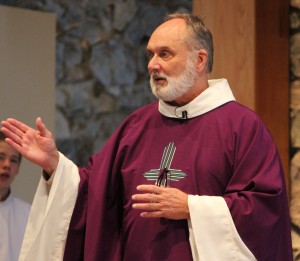 contributed photos
Pastor Jerome Tupa is celebrating his 50th year as a priest.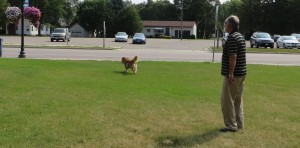 photo by Cori Hilsgen
Pastor Jerome Tupa spends time with his dog, Buster, in the backyard behind the parish house.