Matt Killam
Family: Wife – Michelle; Children: Mason, 7; Jake, 5; and Devon, 3.
Biographical background:
Employment – Coborn's Inc. – Loss-control analyst
Education – Minnesota State Mankato – bachelor's degree in marketing; Minnesota School of Business – master's in business administration
Other activities: City of St Joseph – Planning Commission chair; St. Joseph Lions – membership chair; and St. Joseph Splash Pad Coalition – president
Why are you qualified to serve on the city council?
The voters of St. Joseph will decide who will best represent them on the council. I know I am dedicated to serving our community. I have worked vigorously with the council and organizations, and I will continue to do so, no matter the outcome of the election. Serving on the council is how I can have the most impact in continuing the work I've already begun. I believe I am the best candidate to expand our recreational infrastructure, and work with the broad coalition of citizens and organizations who make this city great. I'm driven and determined to make a great city better. Through various city organizations, I serve this community to ensure a better tomorrow. I plan to work with the community to come up with ways to improve the city. I feel I am easily accessible and willing to listen to community members to come up with ideas the community can agree upon. My family has roots in this city, my children attend the local schools and participate in various recreational programs offered. I choose to support local businesses and this city has become my passion. I am committed to keeping this town a strong community.
There has been much disagreement about the council's one-time plan to build a new city hall that would include a community room. How can the council proceed without any more confusion about that issue? Why were there so many misunderstandings that led to that controversy?
The council has begun to go down the right path by hiring a third party in evaluating needs and involving the citizens in the city hall project. The citizens were shocked with the large dollar amount as well as how the city wanted to incorporate the community room in the project. The citizens did not feel their voice was heard and they felt the city was moving in the wrong direction. Some citizens felt a new city hall was not needed and could be renovated rather than replaced. Going forward it's a necessity the city works with an unbiased third party that can give the city several options and the city and the community can make the decision together. To be successful the project has to be transparent, open-minded and have multiple options for all parties involved.
What are the biggest challenges as St. Joseph continues to grow? And what are the greatest strengths related to that growth?
Sustainable growth is the biggest challenge the city will face in the future. Establishing economic prosperity and maintaining the city's small-town appeal can be accomplished with compromises on both sides. St. Joseph is a great city to raise a family – it has great parks, local businesses and a friendly atmosphere. These are great pillars to the city's success. The St. Joseph recreation program is thriving and a water amenity as well as little libraries would be welcomed additions to the community. They would help citizens interact with their neighbors and promote social well-being.
How would you rate the relationships between the city, its residents and the two local colleges and college students? How could those relationships be strengthened?
The relationship with the college is strong and the students play a huge role in the community. The city should continue to work with the colleges on topics that effect both parties. Approachability and transparency play a huge role in maintaining a strong relationship. Utilizing several media platforms could be a great bridge to the partnership. By offering fun places to eat and recreational activities to the students, they will want to spend more time in St. Joseph rather than other cities.  My goal is to have more graduates live in St. Joseph after graduation, by showing them how great a place it is to raise a family.
Which city services, if any, would you trim or eliminate entirely if a severe budget crisis should happen?
First we have to evaluate the situation. Is it a short-term problem or is it a long-term problem? Then we have to see what possible solutions there are. Can we work with other cities for help or can we balance the budget in different ways? I would prefer to trim services if it had to come to it. Depending on the problem, restrictions could be enforced or freezes could be enforced, until further plans can be made to solve the issue. The citizens of St. Joseph are understanding and I would make sure every decision was made with community involvement.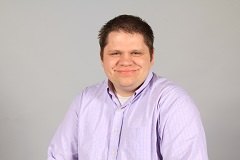 Killam