In their many performances, it's obvious to audience members why "Fun" is the key word in St. Cloud Area Fun Singers.
It's because the singers and their audiences have lots of fun at their hour-long concerts, which combine lively tunes, folksy humor and plenty of surprises.
The "Fun Singers" are 37 senior citizens, 13 of them from Sartell, who perform about 45 concerts during their season, which runs from September through May. The group is especially active in December when it gives holiday performances at nursing homes, assisted-living complexes, service clubs and churches throughout the area, including frequent performances at Celebration Lutheran Church in Sartell. The singers are led by musical director Becky Adams and pianist Sharron Schlagel.
One must be 55 or older to join the group. The oldest member is Tom Clark, 93, of Sartell. Clark's special friend, Violet Halverson, also of Sartell, is a member of the group. There are friends in the group, like Sandy Hurd and Joyce O'Driscoll of Sartell, who have been close friends since their days together at Cathedral High School. O'Driscoll and Hurd share emcee duties for the singing group. There are two sisters in the Fun Singers – Hurd and Jackie Reisinger of St. Cloud. And there is a husband-wife duo – John and Lois Barron of St. Cloud, who have been married for 58 years.
At a Dec. 7 concert at Ridgeview Place, an assisted-living complex in Sartell, the singers entertained a big room full of residents with a wide variety of holiday tunes. The music, now and then, was interspersed with good clean jokes, like the one about a woman trying to drill holes in the ice to try ice-fishing. She kept hearing a loud voice saying, "There are no fish beneath that ice!" Finally, after more attempted drilling and more warnings, the voice finally said, "I told you there are NO fish under that ice! This is the skating-rink attendant speaking."
The Fun Singers perform a variety of songs to suit the seasons. For instance, for St. Patrick's Day performances, they dress in lots of green and sing Irish tunes. During the past election season, they gussied themselves up in red-white-and-blue and performed patriotic tunes and election-type tunes such as "Happy Days are Here Again" (President Franklin Roosevelt theme), "High Hopes" (President John F. Kennedy theme), and "Deep in the Heart of Texas" (in homage to President George W. Bush).
For other concerts, they focus on old Americana classics like "Bicycle Built for Two," "Sidewalks of New York" and "Little Brown Jug," during which a brown jug gets passed from member to member.
Sandy Hurd joined the Fun Singers about four years ago, after she retired from her job with a St. Cloud-based telephone company, where she'd worked during a period of 40 years. She grew up in St. Cloud but has lived in Sartell for many years where she raised a family with her husband, Ron.
"For me, and I think for most of us (the singers), we like it because we bring a kind of musical ministry to people," Hurd said. "Eighty-five percent of the places where we perform are nursing homes, and the people really enjoy our performances."
The Fun Singers do shows in a 40-mile radius of St. Cloud, including the cities of St. Joseph, Waite Park, Kimball, Holdingford, Annandale, Pierz, Milaca and sometimes as far as Alexandria. Annually, the group logs more than 2,000 volunteer hours. Each member pays $20 membership dues to belong. Some places where they perform offer a small stipend, and fundraisers now and then help group members buy their vests and other needed items. Recently, they purchased a keyboard for when they perform in places without a piano. They must also raise money for the only two paid positions – the musical director and pianist. The group is sponsored by the St. Cloud, St. Stephen-Sartell and Sauk Rapids-Rice community education programs and the Retired Senior Volunteer Program, of which all of the singers are members.
Six people joined in just the past week, a fact that delights Hurd because not all members can make every concert so additional members are always welcome.
The Sartell members of the Fun Singers are Hurd, O'Driscoll, Clark, Halverson, Helen DeLong, Lue Earkins, Jan Fischer, Regina Lahr, Carol Partch, Elmer Rakotz, Geri Stang, Renee Stang and Carole Wood.
Their upcoming performances include Friday, Dec. 14 at 10:15 a.m., United Methodist Church in St. Cloud; two performances at Legends, an assisted-living complex in Sartell; and Skylight Gardens, another assisted-living complex in St. Cloud.
Anyone interested in joining the Fun Singers should call director Becky Adams at 320-202-0361.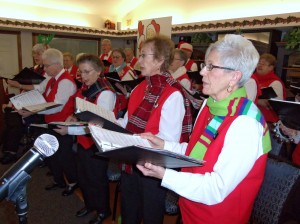 [/media-credit] Tom Clark of Sartell (back row, toward the right) is – at age 93 – the oldest member of the St. Cloud Area Fun Singers. His special friend, Violet Halverson, of Sartell, is also a member of the choir. Sartell resident Joyce O'Driscoll (front row, second from right) serves as one of the choir's two emcees.