It seemed to be "Vendors' Saturday" in Sartell Dec. 8 as vendors set up their wares on two ends of the city – the debut of the Winter Farmers' Market in Sartell City Hall to the north and the fourth annual Firefleyes Market Place 2012″ in the Boy Scouts' Building to the south.
Both events were happening simultaneously, from 10 a.m.-2 p.m., although the Firefleyes one was open until 3 p.m.
The Winter Farmers' Market is an extension of the summer farmers' market in Sartell. The organizer of the event, Amy Braig-Lindstrom, said she was overwhelmed and elated by the excellent turnout for the first Winter Farmers' Market. The city-hall venue, she said, was ideal. Originally, the event was slated for the golf pro building on the site of Pine Cone Regional Park, but later city staff and the city council decided the city-hall locale might be an even better location. Braig-Lindstrom agreed. The dozen or so vendors, too, were happy with the venue, and all expressed their happiness with the great turnout. Hundreds of people came to sample or to buy wares at the market – everything from homemade "peanut brizzle" (similar to peanut brittle) to specialty meats, from jams and jellies to a stunning variety of homemade cookies, from handmade lefse to teas and coffees.
The vendor event, Firefleyes, at the Boy Scout Building was also a success. It was a fundraiser for an effort to end the ravages of malaria in Ecuador, a country on the west coast of South America. Nearly 30 vendors sold their specialty wares and donated funds to the "Firefleyes" cause. They included all manner of handcrafted items, specialty foods, photography, art works, homewares, clothing, accessories and much more. What's needed to avoid malaria, which is spread by certain kinds of mosquitoes, are mosquito nets.
The Firefleyes founder and director is Bethany Fristad of Sartell. After mission trips to Sierra Leone in Africa with her church, Celebration Lutheran Church, Fristad was inspired to start Firefleyes in 2009 to bring a little joy into the lives of impoverished children in that country – many of them orphans of parents who died of AIDS. The "little joy" takes the form of soccer balls and baby dolls, which are collected and donated to children, most of whom have never had even the simplest of toys. Soccer is so universally popular that children go wild with joy when they get soccer balls delivered. Fristad operates Firefleyes with the help of a Nashville woman, Regina Rigney, who is the executive director.
Fristad is a student at Wartburg College in Waverly, Iowa where she is studying communication arts with a minor in social entrepreneurship.
Anyone who would like to donate to Firefleyes may do so via its website at www.firefleyes.org.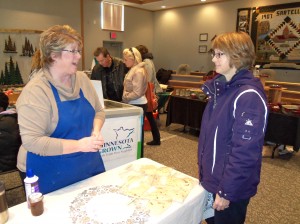 [/media-credit] Folded in fourths to make a triangle shape, lefse is soft Norwegian potato flatbread, similar to a flour tortilla. They are often eaten folded around a butter-cinnamon-sugar filling. But the choice of fillings is virtually limitless. Some lefse fans like nothing better than a thin layer of goat cheese on it.

[/media-credit] At the debut of the Winter Farmers' Market in Sartell, Rosemond Owens of Sartell and her daughter, Abigail, sell their special brand of peanut brittle, which is called "Peanut Brizzle." The candy is made from peanuts, sugar and spices – a recipe based on Rosemond's grandmother's candy, which she so enjoyed while growing up in Ghana, Africa. Rosemond and her husband are owners of Kalahari Foods and Grocery, MN. The at-home business specializes in the foods of Ghana.

[/media-credit] Joel Cherrico of St. Joseph shows a customer a piece of his pottery at the Winter Farmers' Market Dec. 8 in Sartell. Cherrico is well known as a world-class pottery in the area, especially for his bright-red copper glazes.

[/media-credit] Lynn Carlson and her husband, Tom, sell their homemade jams and jellies at the Winter Farmers' Market in Sartell. The Carlsons, who hail from Milaca, are owners of "Lynn's Glass Art and Garden Edibles." Lynn also creates stained-glass art. The Dec. 8 debut of the market attracted hundreds of people, a turn-out that overwhelmed its organizer, Amy Braig-Lindstrom of Sartell.

[/media-credit] Creating and selling fanciful, whimsical headwear is a family affair for Kelly Carlson of Rice, her family and friends. Carlson was one of many vendors selling items at the "Firefleyes" event Dec. 8 at the Boy Scouts' Building in Sartell, an event that raised money to help prevent deadly malaria in Ecuador, South America. From left to right are Jody Navratil of Sartell, a friend of Gilbert's who helps create the items; Ava Gilbert (Carlson's daughter); Kelly Carlson; and Mary Gilbert of Sartell, Kelly's mother and Ava's grandmother. The Carlson headgear business is called "It's a Girlie Girl Thing."

[/media-credit] Bethany Fristad of Sartell (right) speaks passionately of her organization, "Firefleyes," which held a fundraiser Dec. 8 at the Boy Scouts' Building in Sartell. Fristad is the founder and director of "Firefleyes," which helps orphans in Sierra Leone, Africa and also, more recently, helps in the fight against malaria in Ecuador. At the left is friend Jane Bishop of Tomah, Wis.; and vendor assistant Avery Atkinson of Sartell.

[/media-credit] Baby McKenzie Trisco, 3 months, of Rice, wakes from a snooze during the "Firefleyes" fundraiser at the Boy Scouts Building Dec. 8 in Sartell. Holding McKenzie is her grandmother, Sue Bacon of Long Prairie. Bacon's daughter Bobbi and son-in-law Joel Trisko, parents of McKenzie, were one of the many vendors at the event. Their business is called "31 Products."