by Dennis Dalman
news@thenewsleaders.com
The hot, sweaty, prickly work was as bad as chopping through a thick jungle, but the 27 diehard volunteers managed to get the job done in about three hours.
The volunteers toiled on the evening of May 29.
Thanks to them, Sartell Lions Community Park can thrive a bit better without the pesky bush known as buckthorn. Although there is still plenty of buckthorn to be removed, the volunteers made a good head start on eradicating, eventually, all of the invasive plant.
The volunteers were mostly Lions Club members from Sartell, St. Joseph and Sauk Rapids. Besides removing a huge mess of buckthorn, they also sanded and primed the walking-trail rails in the park and cleaned off the paths.
Buckthorn is a shrub-like plant that was brought to the United States in the mid-1830s from Europe because the fast-growing plant was ideal for creating a thick hedge along property. A member of the sapodilla family, the plant has sharp thorns and clusters of white flowers. It makes good hedges all right, but the trouble with buckthorn is that it forms a canopy that blocks light from other plants in its vicinity, causing them to die off. That is why buckthorn is recognized by the Minnesota Department of Natural Resources as an invasive pest species.
The nursery industry stopped selling buckthorn in the 1930s, but what's left in yards, woods and elsewhere keeps spreading.
According to the DNR's website, buckthorn threatens the future of forest, wetlands, prairies and other natural habitats. It contributes to erosion because it hinders or kills the plants beneath it that hold soil to the ground. Buckthorn can also be a "home" to other pests, such as crown-root fungus and the soybean fungus. It is, in a word, nasty.
Phil Ringstrom of Sartell is the one who initiated the buckthorn-removal project. Last year, he attended a class about invasive species hosted by the University of Minnesota Extension Service. The class gave good tips on how to get rid of some of those species, including buckthorn.
Armed with that knowledge, Ringstrom met with Sartell Public Works Director Brad Borders, who agreed it would be a good project to remove as much buckthorn as possible from Sartell Lions Community Park. Ringstrom then met with long-time Lions Club member Mike DeLuca, who happens to be a friend of Ringstrom's. DeLuca then contacted his network of volunteers to line up a buckthorn-removal evening. Volunteers signed up and soon they showed up at the park, rolling up their sleeves and donning gloves for the unpleasant task. A very hot, humid evening made the work even nastier.
Ringstrom brought along some DNR-approved toxic brush killer, which was applied to the remaining torn remnants of buckthorn.
"We want to get all of the buckthorn out of that park eventually," Ringstrom said. "And it would be good to plant floral-scented plants there and more colorful plants. That would be good for the visually impaired and people who are blind. A lot of military veterans who are handicapped or visually impaired could then enjoy the park more."
As Ringstrom well knows, such plantings of new colorful, scented plants and flowers won't succeed, not as long as buckthorn retains its stubborn grip within the park.
Sartell Lions Community Park was planned from the get-go years ago to be a park where the handicapped and visually impaired could find enjoyment, with rails along walkways and even some Braille stations posted at the donated bench rest stations.
Ringstrom estimates it may take up to three years before all buckthorn is eradicated from Sartell Lions Community Park. Other Sartell parks should be monitored for buckthorn, too, Ringstrom noted.
"I would bet Watab Park has some of that stuff," he said.
The pesty buckthorn grows fast, but Ringstrom and other volunteers are determined to keep a step or two ahead of its tenacious spread.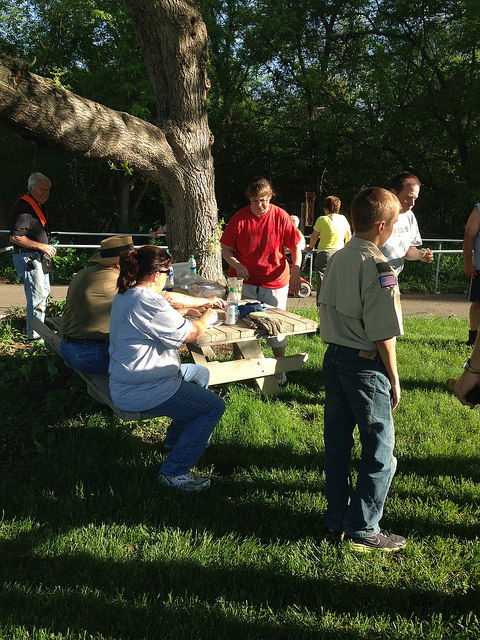 contributed photo
Volunteers, including some Boy Scouts, take a break from the difficult, hot and sweaty task of removing buckthorn from Lions Community Park in Sartell.