by Dennis Dalman
editor@thenewsleaders.com
When Mick Benson of Sartell was a wee lad, his grandmother, while babysitting him, would often coax him to draw, promising him a fresh-baked cinnamon roll if he did.
"You go ahead and draw Bubbles there," she'd say, pointing at the Chesapeake hunting dog curled up on the farmhouse floor. "Then, tonight, when I bake my cinnamon rolls, you'll get the first one out of the oven."
That was a long, long time ago and yet, to this day, Benson gets that same happy, cozy feeling when he's drawing or painting. Art is practically Benson's middle name. He has made a long, rewarding and distinguished career – as art teacher and artist – doing what he loves most.
Born in Worthington, Benson and his family moved quite often from place to place because of his father's job. M.J. Benson Sr., was an oil painter and painted many commercial signs, then later became a construction worker (mainly grain elevators in the Dakotas) and still later a farmer near Grand Forks. As a result of frequent moves, Benson Jr. was exposed to many varied landscapes and cityscapes, which made their way into his many paintings.
Eventually, he earned a bachelor's degree from St. Cloud State University, with a double major in art and history. He graduated in 1966, then earned a master's degree in art in 1986, also at SCSU. During his college years, Benson started as an oil painter and printmaker under the tutelage of master print-making instructor Bill Ellingson and superb watercolorist Gerald Korte. It wasn't long before he began to favor watercolor painting above all other forms of artistic expression.
He still vividly remembers the day he fell in love with watercolors. One day, he observed Korte using watercolor paints to create a scene of an abandoned farm. At that time Benson had been studying oil painting with instructor David Brown. As soon as he saw the sheer magic of Korte's watercolor mastery, Benson thought to himself, "Adios, David Brown! Hello, watercolors!"
Benson taught high-school art in Windom in the 1960s, then much later moved to Albany where he was the high school's art instructor for many years. Throughout the years, he taught countless watercolor workshops in places as far-flung as Bozeman, Mont.; Norway; Denmark; and northeast England.
Two times he and his wife, sociology professor Jessie Harper, were adult supervisors and teachers for the SCSU British Studies program – once in Aalborg, Denmark, the other time in Alnwick castle on the northeast coast of England.
When the subject of art comes up, Benson launches into an avalanche of happy memories, a torrent of words that summons up distant lands, dazzling landscapes, workshops with students, favorite artists alive and dead, and the importance of art in enriching lives.
"I love everything about art," he said. "I've done oil painting, wood-block printing, lithograph printing, and I've even worked in sculpture."
Among his favorite subjects to paint are historic buildings, and he's painted some of them through commissions. He also likes to paint landscapes, flowers and mundane but fascinating machines from the past, redolent of history and a vanished life, such as steam-engine tractors. One of his own favorites is a watercolor of two Percheron horses pulling a farmer on his plow.
Drawing and painting, Benson said he believes, helps people to see and to appreciate what is around them in their lives.
He always told his students just about everything arises from sketches, from drawings.
"It all started with ideas, sketches," he said. "Automobiles, clothing, a house, even a darned ordinary toothbrush."
Ten years ago, the Bensons moved from St. Cloud into a patio home in Sartell, which Benson had helped design. Retired from teaching, he has plenty of free time to do what he loves most – watercolor painting. He keeps some of the paintings, sells others and still exhibits his works far and wide.
contributed photo
Mick Benson began drawing, coloring and painting when he was a pre-schooler. While babysitting him, his grandmother in her farmhouse would constantly encourage him to draw pictures. He happily obliged and never stopped drawing, painting and loving art in the nearly seven decades since.
contributed photo
Two Percherons pulling a farmer with a plow is one of Mick Benson's own favorite paintings.
contributed photo
A watercolor painting of boats in for repair shows artist Mick Benson's love of bright colors and the happy spontaneity of the watercolor technique.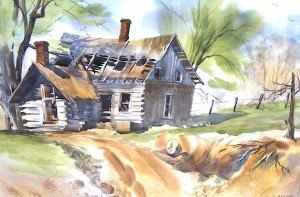 contributed photo
Watercolor artist Mick Benson loves to paint the effects of time on old things, such as this log house ravaged by time and neglect.
contributed photo
Oxen pulling a wagon and travelers is an example of watercolorist Mick Benson's love of painting glimpses of the past.