by Dennis Dalman
news@thenewsleaders.com
Three artists from Sartell High School – Becca Cherry, Hana Krebs, Bree Kreutzer – won top honors at the annual Visual Arts Minnesota High School competition.
Their works, with other award-winning pieces, were on display all through April at the St. Cloud Public Library and at the Paramount Theater lobby.
Becca Cherry, a ninth-grader, took first place in the "Two Dimensional Design" category for her futuristic picture called Another World, which was created with spray paint and plastic wrap. Cherry is the daughter of Lisa Cherry of Sartell.
"I do all my art works with just spray paint and magazine paper to add texture," Cherry said. "It took me about three months to learn to control the amount of spray paint to use. This painting took about 15 minutes to complete."
Hana Krebs, the daughter of Lori and Douglas Krebs of Sartell, took a second-place award in the "Acrylic Painting" category for her painting called Bananas.
"I do art because it is relaxing and I can express myself," Krebs said. I chose to do the bananas because they created an interesting line in the picture. It was difficult to get the textures correct, especially the ends of the bananas."
Krebs, a senior, plans to attend the University of Minnesota, Morris, where she will study pre-veterinary science.
Bree Kreutzer, a sophomore and the daughter of Tiffany Belland of Sartell, earned the first-place award in the "Acrylic Painting" category for a portrait of her sister, a work entitled Krystal.
"I like art because it's fun and it comes natural to me," Kreutzer said. "I painted this picture of my sister, Krystal, because I'd taken a picture of her in Florida. Krystal is also a very accomplished artist, and she inspires me."
The artists' painting teacher is Deb Rollings, who teaches drawing, painting and ceramics for grades 9-12. Sartell High School also has two other art teachers – Angie Heckman and Jeff Voline.
The girls' award-winning works started as class assignments, Rollings noted.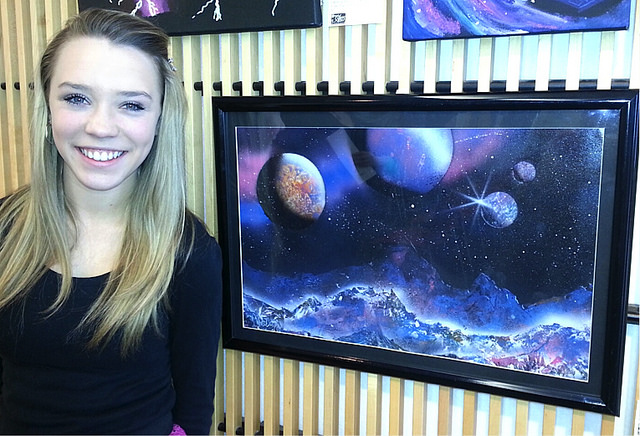 contributed photo
Becca Cherry's first-place winner in the "Two Dimensional" category is titled Another World, which she created with plastic wrap and spray paint.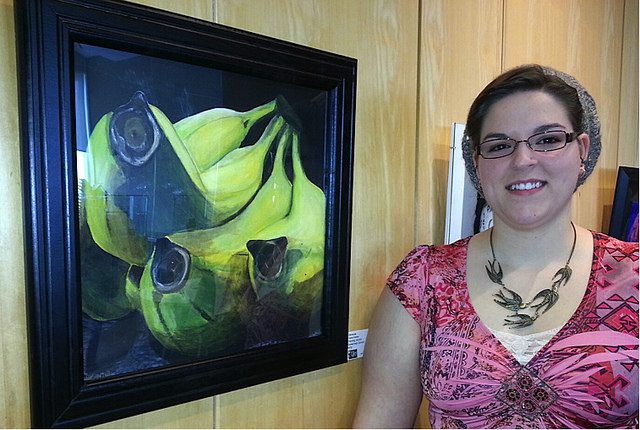 contributed photo
Hana Krebs' painting, titled Bananas, earned a second-place award in the "Acrylic Painting" category.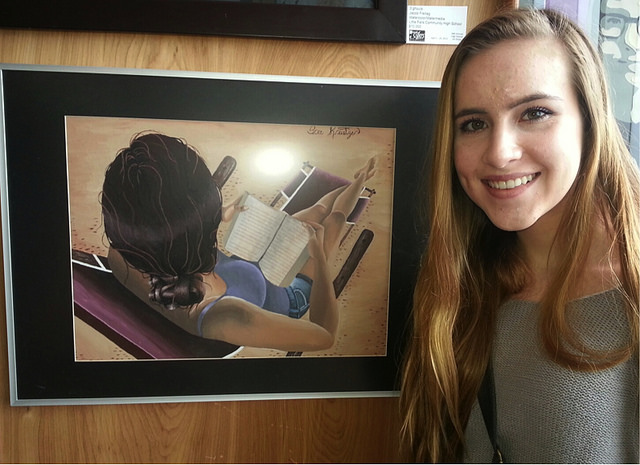 contributed photo
Bree Kreutzer took first-place honors in the "Acrylic Painting" category for this portrait of her sister, Krystal, relaxing while reading a book.